June 19th, 2011
So the concert was over and the next morning Tokio Hotel gave some autographs outside their hotel as they were leaving but not without running a bit late. According to Security guy Saki the wake-up calls didn't work! *oops* XD
But that wasn't all that happened or rather didn't happen at that hotel. As the Daily Star reported on 3rd July 2007, "Bill gets hit with bad bill". Very good job with the headline! Really creative, don't you think?
It never fails to amuse us.
Blurry picture of the snippet: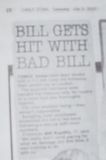 BILL GETS HIT WITH BAD BILL
TOKIO Hotel have been landed with a GBP 10,000 hotel bill following their recent trip to London. The youthful Germans were handed the massive tally for repairs to a room that was thoroughly trashed. The only problem being – they weren't responsible. Bungling hotel employees forwarded the bill to the band following a mix-up with room numbers. Frontman Bill Kaulitz, 17, said: "We really don't mind paying for what we damage, but this time, it was nothing to do with us."
Hm, first no wake-up calls and then sending the band such an invoice? The cheek of that hotel! XD
Hopefully you enjoyed our trip down memory lane as much as we did! We know it's not always easy being a UK Tokio Hotel fan, but we really wanted to share with you one of the great times the UK fans have had with the band. We also really hope that it will inspire you to keep on fighting for another UK concert, so that we will have a new, fantastic show to talk about in the future!
Leave a Reply