Nine years ago today, Tokio Hotel released their first single "Durch den Monsun" and their "over-night" stardom began. Can you imagine, Aliens, next year we'll be celebrating 10 years?! For years we have all been in this fandom and on this journey together. Through the good and the bad times and it all started with a song release nine years ago. <3
Three years ago we started our own little anniversary tradition of sharing this "Durch den Monsun/Monsoon" video collage made by Robyn:
Of course there are also the music videos: "Durch den Monsun" and "Monsoon". So drop by and give them a few plays.
Make sure to join Aliens around the world in spreading the #9JahreDurchdenMonsun hashtag on Twitter all day today.
Another video favourite is the "Making Of" the DdM music video!

Subtitles by THNews_Ru
Full transcript and translation
And there is also this 2005 Bravo article from the "Durch den Monsun" video shoot: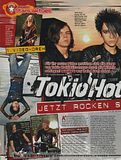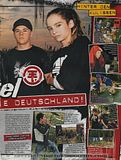 Scan by Beertje_86
Full translation HERE